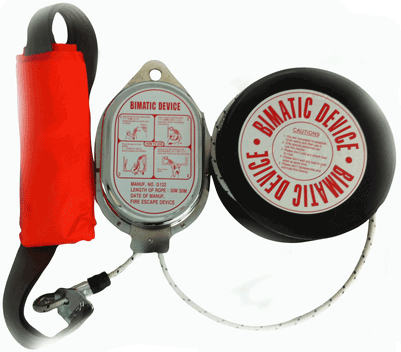 The Sliding Speed in Average
| Weight | 25KG | 65KG | 80KG | 100KG |
| --- | --- | --- | --- | --- |
| cm/s | 42cm | 68cm | 76cm | 85cm |
Description
Floor
3
4
5
6
7
8
9
10
11
12
13
14
15
Length(M)
9
12
15
18
21
24
27
30
33
36
39
42
45
Floor
16
17
18
19
20
21
22
23
24
25
26
27
28
Length(M)
48
51
54
57
60
63
66
69
72
75
78
81
84
Floor
29
30
31
32
33
Over
Length(M)
87
90
93
96
99
100
To utilize our escape device, the wheel containing excess cable is dropped to the ground from the escape platform allowing the cable to unwind. The first evacuee dons the rescue strap, and exits the platform. As he descends, the opposite end of the cable containing an additional rescue strap is raised to the level of the escape platform, affording the next evacuee the opportunity to escape. The process continues until all are evacuated.
Escape Descender (Escape Device)
This Escape Descender device can lead the escaper to the ground safely when there is a fire or an emergency. It descends automatically at the same speed. It can be sold only after the Korean Fire Inspection Corporation's approval.
The rope is made of wire-rope that is used in planes for endurance.
It descends slowly without acceleration.
One time, One person only.