FIRE FIGHTING SUITS
HEAT PROXIMITY CLOTHING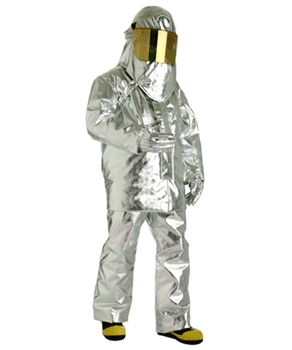 Usage
Heat proximity clothing SCA 1201N providing over 90% of heat(infrared rays) reflect from the violent flame is used for fire fighting in a close area of intense heat and fire
Features
The new aluminized outer shell is soft and lightweight, so it makes the user act more quickly and promotes advanced firefighting efficiency.
Heat proximity clothing SCA 1201N's three layer construction with outer shell, intermediate layer and lining provides the user highlight protection and heat insulation.
It enables proximate work for 8hours within 30cm of distance over 1000℃ of high temperature.
In that case, the change of temperature in the internal part of the clothing is below 13℃.
The heat proximity jacket has a zipper and front closure cover to protect the user from easy penetration by hot air.
The front closure cover is fixed with Velcro.
The faceshield protection is provided by a multi-layered system of UV, Anti-scratch coating and reflective gold on a heat resistant lens.
The shroud type is easily donned to protect the head and neck.
The helmet type is a reinforced model to protect the head from heat and impact.
The shroud of the helmet features a lens that is adjustable to move up-down.
And also a neck cover is easily donned and taken off according to user's need.
The heat proximity pants' back bib provides overlap protection and padding for Self-Contained Breathing Apparatus(SCBA).
The outer material of proximity boots is synthetic rubber and the lining is made of Aramid felt and knitted Aramid fabric glued together to reinforce heat resistance.
The rubber sole is treated with a Non-slip.
And there is also a metal support and steel plates to protect the feet from falling material or high heat in the soles.
GSC
#12F jungangdeco-Plaza, #148 Euljiro, Chung-gu, Seoul, Korea (04549) Tel. 82-2-773-3330 Fax. 82-2-744-3308 E-mail. gsczone@naver.com
Copyright (c) 2018 GSC, All rights reserved.